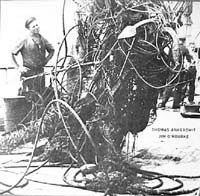 THOMAS ANKERSMIT / JIM O'ROURKE
Ankersmit / O'Rourke
(Tochnit Aleph - TA054) split LP $15.00 (Out-of-stock)
Side one features "Weerzin'" by Ankersmit on computer, saxophone, Serge & EMS synthesizer. Side two is O'Rourke from 1992 on oscillators and guitars. Edition of 750 copies. Cover photo by Alexandra Leykauf.

La Plaine des Respirs
(Tochnit Aleph - TA073) LP $15.00 (Out-of-stock)
The latest works by the legendary poet, musician, and key figure of the French avant-garde during the second half of the 20th century, especially the 1950s through the 1970s. Known primarily as a concrete and sound-poetry pioneer, Chopin has also worked as graphic artist and designer, typographer, independent publisher, filmmaker, broadcaster and arts promoter; his use of early tape recorders and studio technologies, and the sounds of the manipulated human voice -- with a focus on the relationship of balance between order and chaos -- serves as a reminder that language stems as much from oral traditions as from classic literature.

Bible and Machine Gun
(Tochnit Aleph) Used CD $8.00 (Out-of-stock)
A 2001 trash-culture reaction — typical of Costes's inflammatory and bonkers provocations — to the conflict with Israel and Palestine, which he compares to the horror tales of World War II.

EB.ERSONNA / HANATARASH / RUNZELSTIRN & GURGELSTOCK
This Is Tiefpunk
(Tochnit Aleph - TA033) LP $15.00 (Out-of-stock)
Hanatarash Live Aktion 971111 Tokyo, Club Shelter; Eb.Ersonna Live Aktion 971111 Tokyo, Club Shelter Rudolv Eb.Er and Maso Yamazaki; Runzelstirn & Gurgelstøck Live Aktion 980214 San Francisco, Club Teuffel. Harsh, messy and mental. Edition of 1000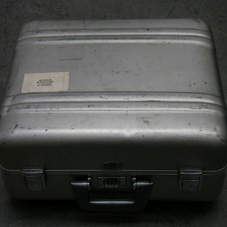 Reuters
(Tochnit Aleph - TA079) LP $23.50 (Out-of-stock)
Latest works by Swiss musique concrete composer Marc Zeier, his second LP after 1991's Seismogram on the Schimpfluch label.

Cue
(Tochnit Aleph) Used 7-inch $4.00
First European release by Hidekazu Miyano and Jun Masumizu, whose four tracks for neon flickering, walls breaking, and ears bleeding are as catchy as a nervous breakdown. "Electric shock pop from the TV made out of colored fluorescent light Jell-O," says Eye Yamatsuka, who oughta know. Edition of 800.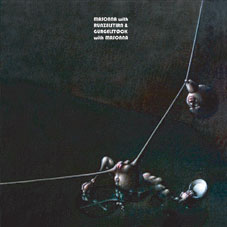 MASONNA / RUNZELSTIRN & GURGELSTOCK
Clitoris Projectile Pump Action
(Tochnit Aleph - TA083) CD $15.00 (Out-of-stock)
First released as tape/object by Schimpfluch / Coquette in 1995 in an edition of 33 copies, this CD reissue makes available on a somewhat large scale (600 copies) the celebrity death match between the wild dog of Osaka (Masonna) and Mt. Lunacy's foreign ambassador (Rudolf Eb.er). Features R&G studio and live-actions material with guest appearance by Joke Lanz (Sudden Infant).

III+
(Tochnit Aleph - TA029) CDR $20.00 (Out-of-stock)
61 tracks by this Schimpfluch Gruppe / Runzelstirn & Gurgelstock collaborator, most of which are from a 1997 Schimpfluch cassette-only release. In the gain-attendant tradition of consciousness-captains R&G and S-G, gorked-up splats leap out of nowhere and try to permanently damage internal potentiometers by abusing the far reaches of impact detection. III+ enforces awareness of annexation of all empirical data receptors with magnifying glasses (or a suitably sexy analog). As in all great works of literature from the macrobiotic punctuation school, it's all about the crossing and the dotting. In oversized sleeve.

Album
(Tochnit Aleph) Used LP $5.00
A series of live actions from the late 1990s by Peter Rehberg and Zbigniew Karkowski transformed. 2001 reissue of CDR. Edition of 100.

Verlautbarungen
(Tochnit Aleph - TA107) Used CD $8.00
Thirty-seven solo text-pieces, phonetic poems, and poetry duets with Monika Lichtenfeld, written and composed between 1952 and 2010 by the Austrian king of experimental poetry, founding member of the Wiener Gruppe, and spiritual forebear of Vienna Actionism. With twenty-four-page booklet with liner notes by Rühm.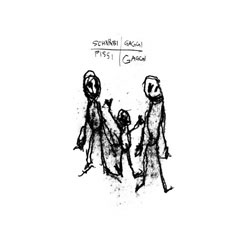 Schnabi Gaggi Pissi Gaggi
(Tochnit Aleph) LP $15.00
Tochnit Aleph Punk Series Volume Four. Featuring Joke Lanz (Sudden Infant) on ventilatorbass; Celeste Urech (age three) on drums and lyrics; Rudolf Eb.Er (Runzelstirn & Gurgelstock) on vacuumvocals. Recorded live in Switzerland 1992. Limited edition of 519 copies.

The End of Fear of God
(Tochnit Aleph - TA048) CD $15.00
All source material by Swiss hardcore/noise legends FEAR OF GOD (1987-88), reworked/covered by (in order of appearance) RLW, N.O.G., Norbert Moeslang, Rudolf Eb.Er, Sudden Infant, Strotter Inst., Soviet Subliminal Seduction, Suntour, Andrew Phillips, Schurer, Unholy Grave, Kevin Drumm, Bela Kiss, Evil Moisture, Killer Nuts, Hecker, Eye Yamatsuka, R. H.Y. Yau, The Idealist, Gorebitch, Massaccesi, Kure Kure Takura, Dylan Nyoukis, Mike Patton & Kid 606, Genetic Transmission, Eric Boros & Jason Flowers, Stress, Jason Kahn, DJ Smallcock, Imperative, Shoji Goto, The Glands Of External Secretion, Jim O'Rourke, Dropdead Ww/ Outosushi, K2, Doris Tomasoni, Kouhei Matsunaga, Eva Revox, Merzbow, Kein Babel, Blackjewishgays Feat. Django, Eva D., Ommyth, Medieval Moisture, Humectant Interruption, Saicobaba, Rabid Dogs, J.C., Dave Noyze, Djkillroy Vs. Von Wurstfinger, Rm74, Raionbashi, Vicious Circle, Ecrase-Merde, Atta, Shite Minor, Voice Crack, Thomas Ankersmit, Silvum, Runzelstirn & Gurgelstock, Takedown Uav, The Haters, Russell Haswell, The Nautilus Deconstruction, Chicken & Monkey, Bloodstar Vs. Saalschutz, Pita, Seaman Staynes & Master Baits, Zbigniew Karkowski, and The Machine Gun TV. Packaged with a 12-page booklet including You Can't Reason with Logic, a short story by G.X. Jupitter-Larsen.