Beauty Beast
(Blast First) Used 3-inch CD $15.00 (Out-of-stock)
From dying theremin to wall-to-wall harsh and throat-burning noise blasts. A joy to behold.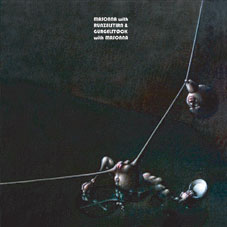 MASONNA / RUNZELSTIRN & GURGELSTOCK
Clitoris Projectile Pump Action
(Tochnit Aleph - TA083) CD $15.00 (Out-of-stock)
First released as tape/object by Schimpfluch / Coquette in 1995 in an edition of 33 copies, this CD reissue makes available on a somewhat large scale (600 copies) the celebrity death match between the wild dog of Osaka (Masonna) and Mt. Lunacy's foreign ambassador (Rudolf Eb.er). Features R&G studio and live-actions material with guest appearance by Joke Lanz (Sudden Infant).

Ejaculation Generator
(Alchemy) CD $25.00 (Out-of-stock)
(Alchemy) Used CD $20.00 (Out-of-stock)
Who better than to shriek "eat shit dungeon synth" than Japan's one-man hornets nest Maso Yamazaki. No one bests his hyperactive grotesque expression, glass-shards studded smoothie of truncated wailing expeditions, near-microsonic bursts of feedback, and no-fi scrabbling. Thirty-three tracks in thirty minutes.

Hyper Chaotic
(V Records) Used CD $20.00 (Out-of-stock)
Nineteen "orgasmic blasts of spastic noise" from 1996 that "bludgeon your ear canals, distort your neurons, and obliterate all thought," according to Chronicle Of Chaos. "A menagerie of frequencies fluctuating from both the high- and low-pitched ends of the spectrum smack into your skull at a nauseating pace…, so quickly that nothing can be grasped, and the entire thirty-minute barrage melts…. Sheer ferocity."

Inner Mind Mystique
(Release) Used CD $14.00 (Out-of-stock)
Seven tracks from 1995 that "drip with the fetid ugliness," according to Ducks Battle Satan.

Mademoiselle Anne Sanglante Ou Notre Nymphomanie Auréolé
(Alchemy) Used CD $20.00 (Out-of-stock)
A psychedelic touch from 1993: cascades of electronic noise and vocal belching.

Noisextra
(Pure) Used CD $8.00 (Out-of-stock)
Fairly psychopathic noise from 1995 referred to by Jukka Siikala as "the sound of a living destruction." Two tracks with absolutely no breathing room.

Noskl In Ana
(Alchemy) Used CD $20.00 (Out-of-stock)
Two tracks from Mad Onna cassette (1989), one from Like A Vagina cassette (1988), one from Masonanie 2 cassette-and-seven (1990), an outtake frm Mademoiselle Anne Sanglante Ou Notre Nymphomanie Auréolé CD (1993), an alternate mix from Masonna vs. Bananamara LP (1990), and three previously unreleased tracks, one of which is a live recording from Gilman Street, Berkeley. No obi

Shinsen Na Clitoris
(Vanilla) Used CD $75.00 (Out-of-stock)
On the debut CD from 1990, Masonna surpasses all extremes with full frequency violence as fast as it is psychedelic. Sealed.