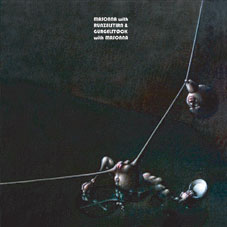 MASONNA / RUNZELSTIRN & GURGELSTOCK
Clitoris Projectile Pump Action
(Tochnit Aleph - TA083) CD $15.00 (Out-of-stock)
First released as tape/object by Schimpfluch / Coquette in 1995 in an edition of 33 copies, this CD reissue makes available on a somewhat large scale (600 copies) the celebrity death match between the wild dog of Osaka (Masonna) and Mt. Lunacy's foreign ambassador (Rudolf Eb.er). Features R&G studio and live-actions material with guest appearance by Joke Lanz (Sudden Infant).

Morx & Kotschlag
(Selektion) Used CD $10.00
"Spearheaded by Aktionist acolyte and genial madman Rudolv Eb.Er," explains Mutant Sounds about this 1994 disc, "These Swiss deviants … use the extended CD format … to enact a form of dadaist endurance test, exploring over one unbroken 74-minute track extremes of unhinged art abuse and glottal torture that sound like Yamatsuka Eye attacking a pack of dobermans with a toy accordion and a bicycle horn." In a clear A5 sleeve with an A3 fold-out poster with liner notes. The CD comes in an extra cardboard slipcase.

Runzelstirn & Gurgelstock
(Nihilist - NIHIL30) Used LP $25.00 (Out-of-stock)
Complex compositions from 2005 based around a wild array of sound sources of a psycho-sexual nature, along with snarling dogs, drum machine blasts and free jazz hoots. Second edition of 200, black vinyl.


EB.ERSONNA / HANATARASH / RUNZELSTIRN & GURGELSTOCK
This Is Tiefpunk
(Tochnit Aleph - TA033) LP $15.00 (Out-of-stock)
Hanatarash Live Aktion 971111 Tokyo, Club Shelter; Eb.Ersonna Live Aktion 971111 Tokyo, Club Shelter Rudolv Eb.Er and Maso Yamazaki; Runzelstirn & Gurgelstøck Live Aktion 980214 San Francisco, Club Teuffel. Harsh, messy and mental. Edition of 1000