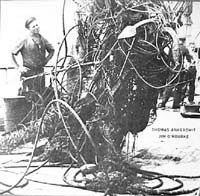 THOMAS ANKERSMIT / JIM O'ROURKE
Ankersmit / O'Rourke
(Tochnit Aleph - TA054) split LP $15.00 (Out-of-stock)
Side one features "Weerzin'" by Ankersmit on computer, saxophone, Serge & EMS synthesizer. Side two is O'Rourke from 1992 on oscillators and guitars. Edition of 750 copies. Cover photo by Alexandra Leykauf.

THOMAS ANKERSMIT / VALERIO TRICOLI
Forma II
(Pan - PAN16) CD $12.00
Four electroacoustic pieces based largely on analogue synthesizer material and one long-form swarm-like composition for multiple overdubbed saxophones -– the duo's first collaborative output, composed and recorded in Berlin between 2008 and 2010. Additional sounds range from metal foil floating on ultrasonic sound-beams to mechanical clickers recorded in the abandoned radar domes at Teufelsberg. The raw materials have been extensively processed and re-constructed using analogue tape and digital methods. The five pieces shift between sharply detailed blizzards of electronic interference to passages of delicate balance, between calm and turbulence, between stasis and rapid shape-shifting, between multiple virtual spaces and non-spaces.