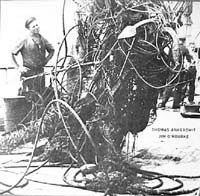 THOMAS ANKERSMIT / JIM O'ROURKE
Ankersmit / O'Rourke
(Tochnit Aleph - TA054) split LP $15.00 (Out-of-stock)
Side one features "Weerzin'" by Ankersmit on computer, saxophone, Serge & EMS synthesizer. Side two is O'Rourke from 1992 on oscillators and guitars. Edition of 750 copies. Cover photo by Alexandra Leykauf.

CHRISTOPH HEEMAN / JIM O'ROURKE / LEE RANALDO
Bloomington, Indiana ... Autumn
(Streamline) Used LP $12.00
Two side-long pieces from the early '90s released here for the first time in 2010. Ranaldo lends the voice and words of "Bloomington, Indiana" to O'Rourke and Heemann for a text-based collaborative electro-acoustic composition on one side, backed with a Heemann / O'Rourke piece from the Plastic Palace People era. Sealed

GIOVANNI DI DOMENICO / JIM O'ROURKE / TATSUHISA YAMAMOTO
Delivery Health
(Silent Water - SW010) LP $23.50
This highly idiosyncratic album, recorded in Tokyo at GOK Sound and mixed at Steamroom, blends early '70s ECM drum sonics with long, unfolding travelogues, the transparency of the mix, electronic drones, and a most organic rock sound.
Listen to "Passe Muraille" here: https://soundcloud.com/giovannididomenico/passe-muraille

TETUZI AKIYAMA / GIOVANNI DI DOMENICO / JIM O'ROURKE
Duos With Guitars
(Silent Water - SW011) 2xLP $30.00
Side-long improvisations recorded between 2011 and 2013 at various locations in Brussels and Tokyo. "Ave Rara" has Di Domenico on Fender Rhodes and Lobo acoustic guitar; "Metaphysical Cowboy" has Di Domenico on piano and Akiyama on acoustic guitar; "Body Made Ear" has Di Domenico on piano and Rhodes, and O'Rourke on electric guitar. The fourth side is blank, in honor of the late Hans Reichel, who passed away before his duet could be recorded.
Have a listen here: https://soundcloud.com/giovannididomenico/duos-with-norberto-lobo-tetuzi-akiyama-jim-orourke-soon-out-on-monotype-records

Long Night
(Streamline) Used 2xCD $10.00 (Out-of-stock)
A two-and-a-half-hour electronic drone work recorded in 1990 and shelved for eighteen years. Tones morph and modulate slowly at first through strobing caused by the gradual shift of interwoven oscillations and their resultant overtones. Frequencies eventually tweak at an increasing rate, continuing into vibrant organ-like textures before reverting to a muffled, disciplined state of being where the various component signals of the drone detune and bristle with activity. Comparable to the synthesis experiments of Eliane Radigue.

Please Note Our Failure
(Some - 08) Used 10-inch $15.00
Two untitled collage tracks from 1998.


Unidentified Again
(Pica Disk - PICA034) 2xLP $23.00
Synth-based mail collaboration by two long-time worshippers of all things Roland Kayn and David Tudor. Each provides lush audio environments for the other's sounds to live in -- living synthetic landscapes with birds, animals of primitive or alien origin, and huge electric storm drones.

THURSTON MOORE / NEW BLOCKADERS / JIM O'ROURKE
Voloptulist
(Hospital - HOS144) Used CD $8.00 (Out-of-stock)
(Ecstatic Peace - HOS144) Used LP $10.00
Two tracks, one a collaboration with Thurston Moore, the other with Jim O'Rourke (and Chris Corsano on percussion). Tense drones with English clutter dissolving into tape hiss ambiance with booming, free barbaric yawps. Such butchery.
LP jacket has cut corner