21st Century Field Hollers and Prison Songs
(Rococo - RCC023) LP $14.25 (Out-of-stock)
An album made entirely from samples taken from the Midnight Crossroads Tape Recorder Blues album (which Russell made with Ralf Wehowsky for A Bruit Secret), in tribute to the spirit of the blues, viewed through a prism of 21st Century cultural criticism. Limited edition of 300 copies.

RICHARD FRANCIS / JASON KAHN / BRUCE RUSSELL
Dunedin
(CMR - CMR27) CD $14.25 (Out-of-stock)
Thirty-eight minutes of immersive sound and fractured electronics by Richard Francis (modular synthesizer, computer), Jason Kahn (analog synthesizer, radio, mixing board) and Bruce Russell (analog electronics), recorded live at Dunedin Public Art Gallery in New Zealand. Russell's analog system cleaves a path through Francis's thick cloud of dusty field recordings and swirling standing waves; Kahn's chaotic feedback system of synthesizer and radio spikes and sputters, like a dying bird in the midst of some caustic low pressure front moving slowly across the horizon.

Fronts
(Helicopter - H40) 7-inch $8.00 (Out-of-stock)
Edition of 300.

RICHARD FRANCIS / BRUCE RUSSELL
Garage Music
(Alone At Last - AAL2) CD $11.25 (Out-of-stock)
Three parts mail music exchange, one part juxtaposition of two solo sets from 2009, and one part live recording from The Physics Room, Christchurch, where Francis plays modular synthesizer and computer, and Russell uses guitar, tapes and Clavioline synthesizer. Hand assembled in textured paper. Edition of 500.

Left Handed Blows: Writing on Sound 1993–2009
(Clouds) paperback book $30.00 (Out-of-stock)
Polemic essays such as "What Is Free?: A Free Noise Manifesto," philosopho-cultural pieces like "Contra-Fludd / Contra-Kepler: The Disharmony Of The Spheres Extolled In Ten Theses" and "To Think Is To Speculate with Images: Rosicrucian Linguistics Revisited as a Semiological Discourse," and discussions of creative practice (with Alistair Galbraith of Handful of Dust, and with New Media Theorist Danny Butt of Rain, Flies Inside the Sun and Tanaka-Nixon Meeting). The book is not an attempt at a coherent totalizing theory; as Ross Brighton points out, "The extolling of an extreme position allows the transmission or instigation of a discourse that would otherwise be sidelined or silenced…." 115pp.

Painting The Passports Brown
(Corpus Hermeticum) Used CD $10.00 (Out-of-stock)
With guitar and analog tape loops, The Dead C's Herr Sideburns creates a volatile collage of feedback and noise. The mood is spontaneous to the point of being shambolic. One of the label's more striking releases.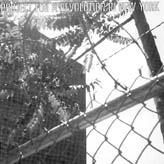 Project For A Revolution In New York
(Siltbreeze - SB71) LP $12.00 (Out-of-stock)
Two side-long tracks from 1997. "Recollections Of The Golden Triangle" is an all-out bare-handed improvisational torture session recorded in the basement of a Masonic Lodge using disemboweled piano and various percussive implements (pots, pans, rocks, sticks, triangle, siren, electric fan, some sort of freakalicious kiwi intonarumori). Guests include Siltbreeze's Tom Lax (who was threatened with a good old-fashioned Malaysian ass-caning if he didn't participate) and Surface Of The Earth's Paul Toohey, who adds cool guitar hum 'n' drone that stitches together the splayed cacophonous gash of Russell and Lax like some goddamn magic suture. "The Erasers" splits open the heavens, as only a man possessed is capable, with primitive and twisted feedback-laden steel-string action over background tape loop drone scree. Blue ribbon brain-fry all the way.

Ruined Again
(l'Esprit de l'Escalier - LELE04) split LP $20.00
Two tape pieces by The Dead C / A Handful of Dust gentleman on one side, using excerpts from texts on urbanism, recorded instrumental interludes, and electronics. On the flip, the side-long track by one of the mutants from Bren't Lewiis Ensemble combines fragments of keyboard drone, spastic violin, field recordings by Silvia Kastel and Joan Of Art, turntables, and diabolically uncooperative reel-to-reel tape. Insert includes companion texts "No: Your City" — Formulary For A New Christchurch" and "The Organ Courier And The Chinese Billionaire." Cover art by Kate McRae. Edition of 200.

Say No To Hate
(Ikuisuus) LP $21.00 (Out-of-stock)
Guitar, violin and electronics recorded in a wood workshop located in Christchurch, scene of New Zealand's worst right-wing terror atrocity. This harsh noise masterwork is an affirmation of life and collaborative solidarity, one of the signature characteristics of the fully international scene from which it springs. Mixed and mastered by Lasse Marhaug. Edition of 200

The Movement Of The Free Spirit
(Smalltown Supersound) Used 10-inch $9.00 (Out-of-stock)
Feedback generated with a tape Dictaphone and effects chain, recorded following the devastating earthquakes of 2011.

The Movement Of The Free Spirit
(Spring Press - SP17) 10-inch (lathe cut) $20.00 (Out-of-stock)
Feedback generated with a tape Dictaphone and effects chain, recorded after the devastating earthquakes of 2011. Appropriately enough, Russell's "scudding, desolate drone," notes Volcanic Tongue, "Isolates and amplifies the brokedown roar at the heart of [this] radical re-conceptualisation of rock dynamics." Edition of 70

BIRCHVILLE CAT MOTEL / BRUCE RUSSELL
Untitled
(Celebrate Psi Phenomenon) Used CD $6.00 (Out-of-stock)
2003 collaboration by Campbell Neale and that one guy from the Dead C and A Handful of Dust. The former plays violin, turntables, space phone, bamboo rattle, amplified sugar bowl, milkshake mixer, turntables, contact mics, computer speakers, tapes, clarinet, recorder, transceiver mic, organ, and cheap synth, while the latter handles guitar, effects, tape loops, fire, pine cones, water, electric toothbrush, percussion, and oscillator.

Virginia Plane
(Spring Press - SP15) LP $13.50 (Out-of-stock)
This collaboration by two heavyweights draws on the languages of musique concrète, dub, blues, power electronics, free noise and early Italian avant-garde. "Some of the harmonica work is particularly mangled," notes Volcanic Tongue, "Squeezed through the kind of thunderous tumult of contemporary Whitehouse with protesting tones that sound like Dylan '66 given a streamroller for a makeover… The bottom end is particularly thick and sticky, more trunk slamming than junk glamming, while a track like 'Pyjamarama' recalls the primitive electro-acoustic aktions of Akita-and-Null-era Merzbow." Edition of 500.