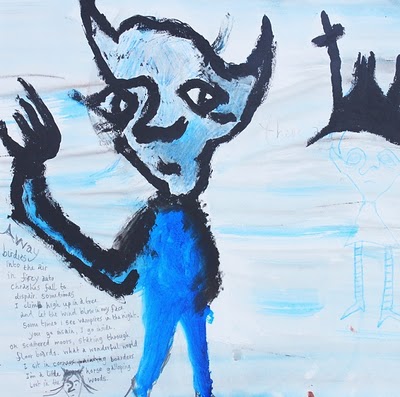 Under Neon Lights
(Wormwood Grasshopper - WG01) LP $25.00 (Out-of-stock)
Cracked sermons for those spoilt by a lifetime of drums. With more rage, more range and more focus than previous Drunk Elk transmissions, Under Neon Lights describes the madness as something clearer, louder and more felt. Picture Father Yod, disrobed, and dispatched to a very different island, landing in the hands of a mischievous Current 93. Edition of 300.

Hammering The Cramps
(Wormwood Grasshopper) Used LP $9.00
A real Tasmanian rager by future members of Drunk Elk that "combines the room pressure of Trapdoor Fucking Exit-era Dead C. with the frenetic psychedelic heft of any great Wayne-and-Kate Village band" promises Still Single, "and the sun-blinded free spirit that rises into the air anytime someone listens to Plagal Grind…. It sounds as if it could have surfaced as some ambitious Xpressway offshoot back in 1988, the presence of four guys with the third dimension flickering on and off, banging on their cages and letting tiny, powerfully-focused beams of light pierce the painted black walls and rip through to a late afternoon blue sky" Edition of 300.

Jolly Jape
(Wormwood Grasshopper - WS08) LP $20.00 (Out-of-stock)
Two ex-Hammering the Cramps members swapping out moody, seismological guitars for sweeping, flailing, droning keyboards, and their debut bounces along, stumbles and falls on the cleared path, simultaneously aligning it with a loaded lineage and shaking off the shackles. Conversational vocals only hint at a melody, reminiscent of Russell Walker's work with the Pheromones and the Bomber Jackets. Occasionally a song splits wide open, as on "Just Like Honey, Pt. 2," the added urgency of the ensemble revealing a whole new vaulted sky under which the band stands alone. Colored vinyl.
Verify it yourself here: https://soundcloud.com/wormwoodgrasshopper/howling-gruel-just-like-honey-pt-2?in=wormwoodgrasshopper/sets/howling-gruels-jolly-jape

If I Don't Sleep Tonight
(Wormwood Grasshopper - WG03) 7-inch $15.00
The second seven by this Melbourne group specializing in the mysteries of late night. Part of the new Stay Classy Australia scene. Edition of 100.