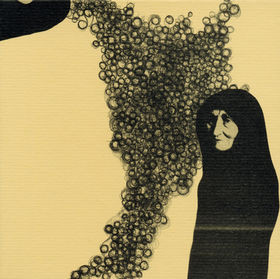 The Vertigo of Dawn Time
(Time Lag) Used LP $8.00
A complete tonal voyage from 2008, opening with a dark ritual of dueling reeds and buzzing drones, erupting into seriously burning psych raga built from totally heavy, jamming, acoustic guitar licks, eastern grooving hand percussions, stoned backwards or fuzzed-out electric guitar splatters, and subtle creaky drones. Nearly unintelligible vocals swirl beautifully. Woozy, head-bobbing, and completely there. 180g vinyl in a custom fabric-textured heavy gatefold jacket with black and red ink.

Our Bed Is Green
(Time Lag) Used 2xLP $15.00 (Out-of-stock)
Originally released on cassette in 1992 and later reissued on CD by Wholly Other label, Charalambides' debut roped folk, improvisation, psychedelia, blues and gospel into a crackling sound world unlike any other.

CHARALAMBIDES / SIX ORGANS OF ADMITTANCE
Songs From The Entopic Garden Volume Two
(Time Lag) Used LP $22.00
Ben Chasny's stunning "Resurrection," backed with the Carters' and the Murray's trance-y, blissful "Second Rehearsal." A real psychedelic phenomena from 2001. 180gm vinyl, letter-pressed jacket, insert. Numbered edition of 800.

Rosa De Sangue
(Time Lag) Used LP $10.00
The Brazilian legend backed by The Mountains Band, further assisted Alceu Valenca, Flaviola, Ze De Flauta, Paulo Rafael and many others. This wild audio experience recorded in 1980 covers many styles and moods: crazed ethno folk-rock; magical, gentle, jungle folk psych; hard-hitting, coke-dusted fuzz rock; insane, mutant-disco dance floor grooves; tweaked Americana; acid vocal raga trance; and way beyond. Côrtes's smoke- and booze-steeped voice darts between crazed abandon, deep sadness, and glowing soulful humor. When things are mellow, you could easily imagine you're hearing an outtake from Marconi Notaro or Paebiru, but the next moment you're dropped into a raging street party or a dimly lit booze-drenched bar. Frenzied guitars are all over, including some tough fuzz, as well as powerful rolling bass grooves, soaring violin, moog weirdness, dusted backup vocals, and great drum kit / regional percussion interplay. Psychedelic at heart, but brimming with flashes of tropicalia, punk, prog, and pure, hot-blooded rock'n'roll. A bizarre and amazing album, thought for decades to be permanently lost due to insecure corporate lackeys. Heavy vintage-style jacket, foldout poster, plus an extra insert with new liner notes for this 2009 reissue. 180g vinyl.

Satwa
(Time Lag) Used LP $35.00 (Out-of-stock)
Written, recorded and released just as Brazil's military dictatorship reached the climax of its long black arc, the one and only Satwa album is a divinely subtle protest, often cited as Brazil's first independent record. On the 2005 repress of this 1973 grail item, Lula Côrtes and Lailson jammed cross-legged and produced folk trance gems largely devoid of voice and word, a succession of ragas and mantras, powered by incense, magic mushrooms and other "mental muscle expanders," with Côrtes plucking steely leads on sitar while Lailson's 12-string thrums crystalline chords. Robertinho Do Recife guesst on "Blues do Cachorro Muito Louco," the most explicitly fried track.

Cosmology Of Eye
(Time Lag) Used LP $7.00
Head-spinning acid / drone / raga from 2006 by Marcia Bassett, Steve Gunn, and Pete Nolan, centered around acoustic guitar freeflow, and wrapped in layers of hovering vocal mist, buzzing drones, percussive clatter, and subtle but massively psychedelic electric guitar moves. Five tracks slide along from bone-rattling minimal vibrations, dip into opiated folk beauty, and then blow things wide open with a full side of fevered lift-off. 180gm vinyl. Letterpress jacket, 8x10 photo insert shot by Tom Carter. Number 706 in an edition of 850

PAINTING PETALS ON PLANET GHOST
Painting Petal on Planet Ghost
(Time Lag) Used LP $10.00
An esoteric and mesmerizing trip through space, minimalism, and emotion by My Cat Is An Alien's Opalio brothers and Ramona Ponzini. Each track was recorded in 2005 at a different mystical location in the western alps, and centered around Ponzini's Japanese vocals. Accompaniment is sparse: toy piano, alien keyboard tones, antique accordion, percussion, tape effects, and some particularly evocative acoustic guitar. The whole thing comes off alternately as deeply meditative or chillingly haunted. 180g vinyl. Letterpress printed cover and insert. Copper ink on thick handmade ivory paper. Numbered edition of 560

For Octavio Paz
(Time Lag) Used LP $70.00
Ben Chasny explores the guitar inside and out, solo and over-dubbed, steel and nylon string (in fact, For Octavio Paz is the first Six Organs album to feature the reverberations of a nylon string guitar). What really sets Chasny apart from the other modern Fahey worshipers is a willingness to accept a wider array of other guitarists into the pantheon — Peter Walker or Richard Youngs, for example. 2003 pressing on 180g vinyl, packaged in white-on-white silkscreened folder, with letter-pressed insert, numbered edition 445/500.

Nightly Trembling
(Time Lag) Used LP $30.00
2003 pressing on 180g vinyl of this 1999 anti-sorcery rarity packaged in black-on-black silkscreened folder, with letter-pressed insert, numbered edition 482/500.