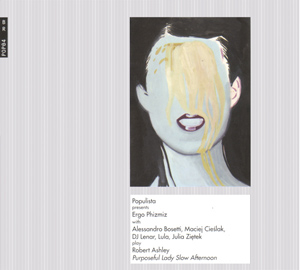 Purposeful Lady Slow Afternoon
(Bôłt - BRPOP04) CD $14.00
Voices by Ergo Phizmiz and Lula, piano by Phizmiz, guitar by Maciej Cieślak, violin by Julia Ziętek, laptop by Alessandro Bosetti, turntable by DJ Lenar. Volume four in the label's Populista series.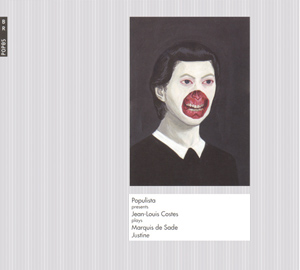 Justine
(Bôłt - BRPOP05) CD $14.00
Voice, melodies and adaptation by Jean-Louis Costes, premiered at The Birth Of Noise out of the Spirit of XVIII Century Music series accompanying the exhibition Ladies With A Doggy And An Ape. Farce and horror. Volume five in the label's Populista series.

Cycles Des Souvenirs
(Bôłt - BRPOP03) CD $13.50
Dutch maverick conceptualist Rinus van Alebeek interprets the music of the well-known French-Italian tape music composer. As van Alebeek says, he doesn't make music, and is in fact a writer who abandoned traditional literature and its confines, in favor of "writing" with the cassette recorder. "It is an example of his unique sonic approach to documentary reportage," supposes our friend at The Sound Projector, "A compelling suite ... which layers together several half-familiar domestic and everyday sounds, along with half-whispered narrating voices, suspending everything in a fluid and open-ended mix…. [C]learly … not 'composed' in any normal sense of the word … it unfolds [naturally] and you have no clear idea where it is going, or what to expect next." The third release in Bôłt's Populista series of radical reinterpretations of historical music, curated by Michał Libera.

Ludwig Van
(Bôłt - BRPOP02) CD $13.50 (Out-of-stock)
Kagel's 1970s film Ludwig Van, a rather critical piece of avant-garde cinema, asked pointed questions about the ways in which later audiences appropriate and interprete Beethoven's music. Pianist Frédéric Blondy and turntablist DJ Lenar reclaim and reinterpret the soundtrack in this post-modern mashup that includes source material such as Herzog soundtracks, a lecture by Alfred Cortot, samples of string playing and percussion from contemporary improvisation records, and numerous other unknown sounds -- all recorded at the Warsaw National Art Gallery, produced the same day as its premiere. "It's an indescribable puzzle piece," marvels our friend at The Sound Projector, "A crazy-quilt knitted together from mosaic-fragments of music, and virtually every second of sound appears to have a subversive intent or hidden meaning, one quote leading to another quote. It's also glorious to listen to…. A fabulous thirty-two minutes of delirious complexity which bends 19th century classical music into 20th century atonal composition, by way of very contemporary techniques (editing, turntabling, mixing, layering)." The second release in Bôłt's Populista series of radical reinterpretations of historical music, curated by Michał Libera.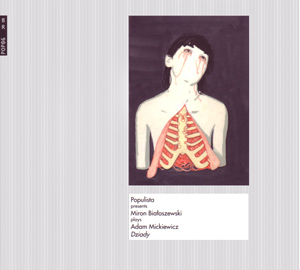 Dziady
(Bôłt - BRPOP06) CD $14.00
Voice, objects and tape by Miron Białoszewski performing at Teatr Osobny, Warsaw, on Christmas Day 1965. Mickiewicz and Białoszewski meet where the word "opera" loses its most obvious meaning, as Dziady is located in a province of no opera tradition, composed how Mickiewicz imagined it rather than "properly." Intention of such a twisted trajectory can only be fulfilled by equally unusual performance: mis-opera or opera misunderstood, something resembling the opera by accident and indirectly. The material on Bôłt's CD consists of the sections of Dziady that step outside the regular model of reading and thus unite text and sound / music, especially Mickiewicz's own edit and montage of section IV. Volume six in the label's Populista series.

Music Pour Descendre
(Bôłt - BL1009) CD $13.50
In contrast to the Darmstadt school, avant garde composers of the Romanian "golden series" (George Enescu, Stefan Niculescu, Aurel Stroe, Tiberiu Olah, Myriam Marbe and Anatol Vieru) set out to discover the common, a priori, Ur-foundation of music tradition, an endeavor from which developed Romanian spectral and archetypal musics. The last living composer of this group, Nemescu explores areas of conceptual, ritual, and ambient music, as well as the meta-musical plane. Since 1990, symphonic works have taken up the most important position in his output, much of which focus on a series of gradually developed pieces devoted to certain moments and hours of day and night. Musique Pour Descendre is dedicated to 2PM and 3PM. Tedium House orders include a free copy of Bananafish #14, with a ten-page translation of an essay by Nemescu, calling for a return to conceiving of music as an initiative, participatory event made of "energy ladders."

Dichterliebe
(Bôłt - BRPOP01) CD $13.50
Premiered at The Song Is You Festival in Warsaw in 2009, recorded in Berlin 2010, vocalist Bernhard Schütz and pianist Reinhold Friedl (of Zeitkratzer) perform the song cycle by famed 19th century German romantic (with lyrics by sarcastic poet Heinrich Heine). Schütz's vocalizing would probably turn a conservatoire vocal trainer pale and induce a coronary seizure. He bends notes around the melody in a snide, mocking way, occasionally punctuating with an angry growl. Attack, sustain and room presence are served generously with Friedl's assured, decidedly non-quiet keyboard work. The debut release in Bôłt's Populista series of radical reinterpretations of historical music, curated by Michał Libera.

Blanc Et Rouge
(Bôłt - BR ES07) 3xCD $16.50
So-called "absent" works, evidence of their creators' critical approach and lack of consent to political pressure under which they had to function. These compositions to various degrees allude to then-current events but also point to the broader historical and humanistic context. Four by Eugeniusz Rudnik: Lesson II; Elegy to the Victims of War; Epitaph of Stones; Guillotine DG; plus The Pole Reports from Space (an excerpt from a radio play with music by Rudnik). Krzysztof Penderecki's Death Brigade; fragment of the 1962 Radio Moscow program W mirie nowych zwukow. 20th Anniversary of the Polish Workers Party by Józef Patkowski, Rudnik, and Krzysztof Szlifirski. Two by Elzbieta Sikora: Rhapsody for the Death of the Republic; Janek Wisniewski-December-Poland. Bohdan Mazurek's Epitaph on the Death of Jan Palach (2nd version). Maria Pokrzywinska's Reglamentoso. Two by Krzysztof Knittel: Dorikos; Glückspavillon for Cathy. Thirty-two-page booklet. Sponsored by Ministry of Culture and National Heritage of the Republic of Poland and Capital City of Warsaw Municipal Office.
PRES Scores
(Bôłt - BR ES09) 2xCD $16.50
Original and new realizations of five of Polish Radio Experimental Studio's seven published scores. Pieces by Andrzej Dobrowolski (Music for Magnetic Tape and Piano Solo; Music for Magnetic Tape No.1), Bogusław Schaeffer (Symphony: Electronic Music), Włodzimierz Kotonski (Aela; Study for One Cymbal Stroke), and Krzysztof Penderecki (Psalmus) "performed" by Eugeniusz Rudnik and Bohdan Mazurek and by Lionel Marchetti, Thomas Lehn, Philip Zoubek and Wolfram, Arszyn and Piotr Kurek, Marion Wörle and Małe Instrumenty. The scores are among the first attempts to write down electronic sounds, and provide links between music and graphics, making explicit the replacement of utilitarian functions for experimental ones. Precision of communication between a composer and a sound engineer — noticeable in early Dobrowolski scores or in Kotonski's Study — yields to a tendency to experiment with this communication. In 1964 Bogusław Schaeffer's graphic score was full of new symbols, well-defined by the author but which above all serve as tools of identifying the potential actions of the sound engineer. Six years later Włodzimierz Kotonski's composition, deprived of graphic symbols, is a nineteen-page text-score describing the most important principles of a family of electronic pieces called Aela. The PRES Scores album is dedicated to the ambivalence of conservatism and experiment. Scores on paper are what the composer leaves behind and in this way requires, or at least allows, subsequent realizations. Twenty-eight-page booklet. TEDIUM HOUSE BEST OF 2013

Solitude of Sounds
(Bôłt - BR ES08) 2xCD $16.50
A collection of works created at Polish Radio Experimental Studio by pioneer of minimalism Tomasz Sikorski and by his friends and followers. Four by Sikorski: Echoes II (1963); Antiphones (1963); Diario 87 (1987); Solitude of Sounds (1975). Two by Száblocs Esztényi: Created Music No 3: in memoriam Tomasz Sikorski (1989); Concerto (1971). One by Kasia Głowicka: Presence (2007). As opposed to American minimalism (with its urban soundscape flavor that emerges from frenetic human interaction), or Dutch minimalism (informed by a culture of activism), the Polish variation has been called "mystic minimalism" because of the personal experiences and environment of its creators, and their interest in expressing emotions in a grandiose way. Philosopher-minimalist Sikorski was concerned with the meditative properties of his compositions (which seem to long for brutal beauty), and impressed by the existential crisis in Kierkegaard's The Sickness Unto Death. His attraction to despair may have had roots in personal tragedy, where intoxication, abandonment and ridicule plagued his existence. Twenty-four-page booklet. TEDIUM HOUSE BEST OF 2013