Chitty Chat b/w Goodbye Dear Cliche
(Sacred Bones - SBR020) 7-inch $6.00
Serious harsh downer vibes from this Australian male/female duo whose drum-synth-bass-and-vocal ferocity comes out sounding like a surprisingly danceable version of Whitehouse.

Heaps of Nothing
(Siltbreeze - SB130) CD $12.00
(Siltbreeze - SB130) LP $16.00
For this second full-length effort, Naked on the Vague eschew their tantalizingly sparse duo attack for a quartet line-up, and the results are as sensational as they are sinister. While the rickety, no-wave splat found on previous efforts had its appeal, the heft of a "proper" rhythm section has only helped Naked on the Vague delve deeper into the landscape of post-punk murk. Bleak, unrepentant, withering and droll, Heaps of Nothing is a 21st century codification of the gallows wit and mesmerizing otherworldliness of Dub Housing-era Pere Ubu, Primitive Calculators and Lemon Kittens. LP includes download card.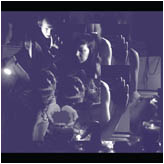 The Blood Pressure Sessions
(Dual Plover) CD $14.25 (Out-of-stock)
(Siltbreeze) LP $14.00
Lucy Cliché and Mathew P. Hopkins dive deep into a world of apocalyptic pop and psychedelic weirdness with disparate vocals that grip onto menacingly hook-laden basslines and stabbing keys, pushed by an unrelenting drum machine far past the end of its warranty period. Expanding on the final moments of no-wave and what that imploded scene might have become, this nine-track punk assault ranges from almost danceable, short-and-sharp "hits" to gloomy, extended freak-outs. Life never looked so bleak. Vinyl reissue on Siltbreeze in early 2008. "Distilled nihilism." —Drop Dead