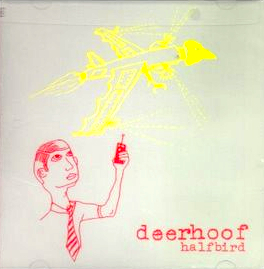 Halfbird
(Menlo Park) CD $7.00
The fourth full-length album from San Francisco masters of "quiet-loud" experimental rock cacophony. A fifteen-track juxtaposition of extremes and hybrids that push the limits of beauty and power, as the band moves from thermonuclear sound assault to moments of calm. Spectacular drumming, flesh-hacking guitar, roaring bass, and nerve-tingling female vocals.

Holdypaws
(Kill Rock Stars) Used CD $6.00
"[T]he band's debut alternated actual melodies with meandering bits of downtown-style guitar noise, [but] everything on Holdypaws could easily be classified as a 'song' …, [sounding] very much like a less-refined Blonde Redhead. This development represents a steady progression toward relative normality…. Deerhoof's songs universally portray a surreal, nightmarish place seen through the eyes of a child, as if Glenn Branca composed a soundtrack to 'Where the Wild Things Are.' Songs like 'Queen of the Lake,' 'The Moose's Daughter' and 'Crow' describe an interior landscape populated by shadowy, half-beast mutants…. There are no songs about 'relationships' or anything else vaguely connected to the sane world's agreement about what constitutes reality; this is the stuff of dreams, and as such, they are effectively creepy and strange." From 1999

Live "Koalamagic"
(Dual Plover) Used CD $5.00
No-pop stunners recorded between 1996 and 2000.

Milk Man
(Kill Rock Stars) Used CD $5.00
Behold the harnessing of maniacal energy, forged into seriously dense and carefully considered songwriting. Cleaner and deep production reveals Deerhoof's commitment to letting the songs speak for themselves. Greg Saunier's drumming is quite restrained, Chris Cohen and John Dieterich concern themselves with static harmonies and miasmatic outbursts, and Satomi Matsuzaki delivers remarkably complex vocal melodies. Sealed

The Man, The King, The Girl
(Kill Rock Stars) Used CD $5.00
The early recordings on this disc by Rob Fisk (bass and guitar) Greg Saunier (drums), and Satomi Matsuzaki (vocals) took about two years to compile from zillions of practice tapes. There's a conscious moving away from their improvisatory noise roots here, with a focus on what to the group sounds the most catchy, hi-fi, and powerful.

The Runners Four
(Children Of Hoof) Used LP $50.00
Recorded live in their Oakland rehearsal space without any post-production, The Runners Four captures the unbridled intensity and utter joy of Deerhoof live while continuing to map out the territories of their own distinct brand of pop songcraft. Sealed