The Sky's Gone Out
(4 Men With Beards - 4M511) LP $15.00 (Out-of-stock)
Writhe and horrify yourself to the 2008 reissue of the third album by these ambassadors of goth, originally released on Beggars Banquet in 1982.

ART BLAKEY'S JAZZ MESSENGERS / THELONIUS MONK
Art Blakey's Jazz Messengers With Thelonious Monk
(4 Men With Beards) Used LP $16.00
On the 2002 reissue of this 1958 date by Art Blakey (drums), Johnny Griffin (tenor sax), Bill Hardman (trumpet), and Spanky Debrest (bass), Hardman immediately ups the ante with a pile-driving lead during "Evidence" that underscores the heavy-hitting nature of this particular jazz confab. Monk counters with some powerful and inspired runs that are sonically splintered by the enthusiastic — if not practically percussive — chord progressions and highly logistic phrasings from the pianist. The inherent melodic buoyancy on "In Walked Bud" contains a springboard-like quality, with Griffin matching Monk's bounce measure for measure. Griffin's incessant efforts create a freshness to the tune that often escapes other less inspired readings. From Blakey's boisterous opening on "Blue Monk" through to Monk's single-note crescendo during the finale, the Jazz Messengers' lethargic propulsion showcases the melody's bluesy origins. This directly contrasts the uptempo charge of "Rhythm-A-Ning." The quirky yet catchy chorus glides with the dual-lead horn section as the entire arrangement is tautly bound by the understated Debrest and Blakey.

DOROTHY COLLINS / DAVEY GRAHAM
Folk Roots New Routes
(4 Men With Beards) Used LP $16.00
2010 reissue of this 1964 landmark folk recording, bringing together the haunting vocals of Collins and Graham's innovative guitar-playing.

Soul '69
(4 Men With Beards) Used LP $8.00
2002 reissue of Franklin's jazziest material, despite the title. Her vocals are consistently passionate and first-rate, as is the musicianship.

I Never Loved A Man The Way That I Love You
(4 Men With Beards) Used LP $12.00
2001 reissue of Franklin's Atlantic label debut is an indisputable masterpiece from start to finish, a soul landmark.

Spirit In The Dark
(4 Men With Beards) Used LP $10.00
2002 reissue of one of Franklin's more overlooked albums from her Atlantic prime, despite the inclusion of a couple hit singles (the title track and "Don't Play That Song"). Features five of her own compositions (the most she ever recorded for a single album) and her customarily eclectic choice of cover material.

L'Homme A Tete Du Chou
(4 Men With Beards) Used LP $12.00 (Out-of-stock)
2009 reissue of Gainsbourg's concept record (Phillips 1976) second only to the stone classic Histoire De Melody Nelson. Translating to The Man With The Cabbage Head, it's a brutal story of lust and obsession in which, over the course of the album, the narrator falls in love with a black shampoo girl (Marilou), beats her to death with a fire extinguisher and ends up in a psychiatric hospital. Featuring lush orchestration and a variety of influences, from reggae to rock to funk to country.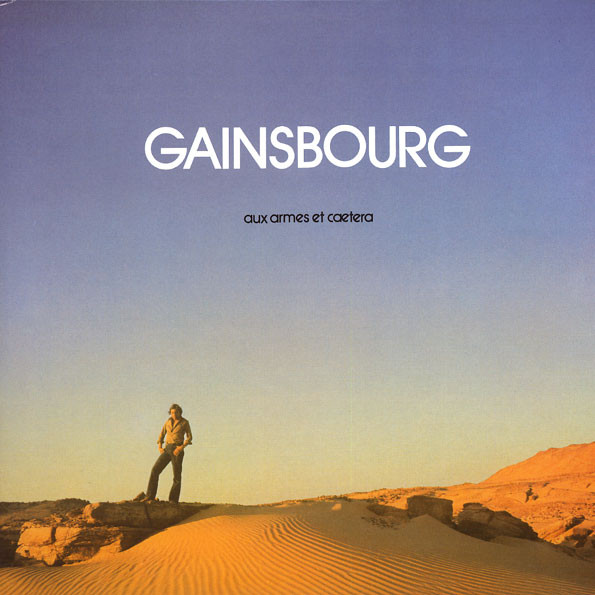 Aux Armes Et Cætera
(4 Men With Beards) Used LP $10.00
The priapic Parisian erotic poet-philosopher in Jamaica in 1979 with Sly Dunbar and Robbie Shakespeare, probably the greatest reggae rhythm section of all time, and the I-Threes, Bob Marley's female back-up trio. 2009 reissue. 180g vinyl

The Electrifying Eddie Harris
(4 Men With Beards) Used LP $15.00
2001 reissue of a classic date by the master of electric baritone sax. With pianist Jodie Christian, bassist Melvin Jackson, and drummer Richard Smith, plus guests.

Flammende Herzen
(4 Men With Beards) Used LP $8.00 (Out-of-stock)
2010 reissue of the first solo album (Sky 1977) by your man from Neu! and Kraftwerk. Rother's signature guitar sound is all over this visionary record of outerworldly anthemic melodies, propelled by the mechanical percussion of Can's Jaki Liebzeit.