Desolation Peak
(Emerald Cocoon - E011) LP $15.00 (Out-of-stock)
The intimately confrontational vocal deconstructions rapping inside raw distortions of emotive gut on Desolation Peak owe something to East African ritual chants, which is not underestimate its illumination by the same electricity as A Handful Of Dust, Heather Leigh Murray, Jandek, or Gate's Metric LP. Vocals multiply and fall back into themselves, guitars bloom like flowers of grit, the whole record collapses into groaning gleaming feedback. Edition of 259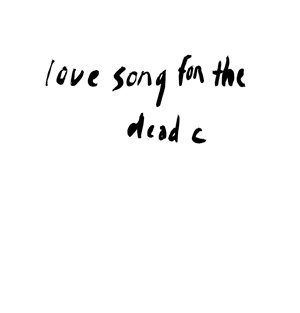 Love Song For The Dead C
(Emerald Cocoon - EC009) LP $12.00 (Out-of-stock)
Bookended by two renditions of a Persian love song (one sung in Farsi, one in English) that trade in the same echoing confusion, Love Song For The Dead C is some epic outsider hornk, originally released to coincide with an installation at Human Resources Gallery in Los Angeles. Dissonant chiming slowly unfurls into a vast chasm of mesmerizing sound; disoriented guitar wafts through a wah-wah swirl of delay and distant Dead C samples; parts are harrowing slow-motion crawls through alleys and sewers of room tone as captured by the tunnel-vision fidelity of a Dictaphone. Handmade bootleg-style paste-on covers. Edition of 288.

Oh Woman / Flame Creation
(Emerald Cocoon - EC005) 7-inch $7.25 (Out-of-stock)
Gone are the horizontal string-sprawl epics of past, replaced by a new density and compositional focus. Dictaphone guitar-swirl and declamatory vocal preaching atop loping nod-out rhythm samples, you could almost say Helga Fassonaki (of Metal Rouge) has gone pop. But then there's B-side: a sheet of live industrial slamming recorded at the Echo Curio in Los Angeles that sounds like a realtime channeling of Kali. Confusing, enticing, nuanced and brutal. Volume three in Emerald Cocoon's Alone Together series. Edition of 300.