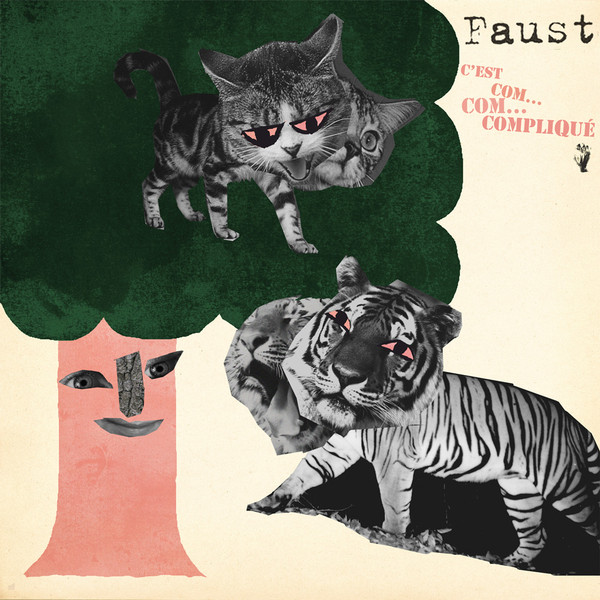 C'est Com Com Compliqué
(Bureau B) Used LP $17.00
"Much of the album sounds," according to Pitchfork, "like drummer Zappi Diermaier is playing both sticks with one hand. The result is oddly tribal … somewhat like using a commercial drum kit as an indigenous instrument, an anthropological examination of Western instruments for nativist music…. 'Kundalini Tremolos' is a great example of the drumming effect…, a yogic meditation with a very Eastern feel, pranayamic forced breathing sessions at the fore, and the titular tremolos stuttering to and fro over loose bouts of tambourine and chimes. The warpath drums are limited to just the metronomic beat of the song and, with all the wild fuzz behind it, sounds like it's coming from a different world."

Disconnected
(Dirter - DPROMLP61) 2xLP $50.00
Dude from Brainwashed pretty much nails it: "Considering the massive influence Faust have had on Nurse With Wound (with Stapleton as a young man famously traveling to the group's headquarters at Wumme only to find Faust were off on tour), it is nearly asking for either an anticlimax or a masterpiece yet [Disconnected] is neither…. [T]he hypnotic, motorik rhythms of "Lass Mich" … blend[ing] into smoky ambiences is a stunning start to the album. This was the kind of magic I was hoping for. Yet from here on the album never returns to the sense of urgency and power of the opening song…. There are times when the music is unmistakably Stapleton and Potter -- the time-stretched vocals and ethereal drones … [while] Faust (in this case consisting of Jean-Herve Peron, Zappi Diermaier and Amaury Cambuzat) bring an awful lot to the table, some of the material here sounds like it could have come from the classic recording sessions at Wumme, the band sounding as vibrant now as in their youth…. The symbiosis between the two groups comes naturally, although with all the studio trickery it is hard to tell where one band begins and the other ends…. Disconnected may not be a Faust Tapes or a Soliloquy for Lilith for the 21st century but at the very least it answers a big "what if" question. Its best moments shine brightly and at worst it is not a million miles away from some of Nurse With Wound's more recent output (and really that is not a bad place to be at all)." Includes a second platter available only with the first 1000 copies. One side of Faust, one side of NWW.

Outside The Dream Syndicate
(Table Of The Elements - Li) Used CD $10.00 (Out-of-stock)
1993 reissue of minimalist classic, recorded in 1972. With one previously unreleased bonus track.