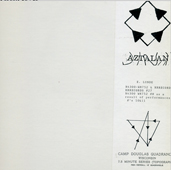 Colorado Terrain Investigation
(Industrial Recollections) CD $15.00 (Out-of-stock)
Includes the material from N3845 W10452.5/7.5 double-seven-inch (RRRecords 1988), Aztalan / Camp Douglas Quadrangle seven-inch (RRRecords 1988), and a twenty-minute live performance previously released on VHS only. Lunde does what nobody else is doing. The crude and decayed quality of these releases is still fresh today. With eight-page full-color booklet, reproducing the original artworks in all their aging, decayed glory.

XCHDX / TapeDeathCut
(Industrial Recollections) CD $15.00 (Out-of-stock)
Material from XCHdX: On The Terrain Of Prophecy LP (Alamut / Big Body Parts 1989), and split LP with Hands To (Complacency 1989). Includes bonus material from limited edition tape available only to subscribers of Witness To Disaster, not for sale previously.