Bong Voyage
(Bad Glue) Used LP $15.00
A pummeling furnace of on-the-edge-of-collapse heaviness from 2004, recorded live. Edition of 800.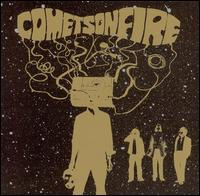 Comets On Fire
(Comets On Fire - COF01) Used LP $100.00
First full-length release from 2001 by these psycho-psych freaks who deliver dark and damaged acid rock served in a crude and blown out speedball of methamphetamine and Schnapps. 4/4 power rock shifts to imploding free form. Echoplex-treated tales of drug-crazed space travelers, graverobbers in love and cosmic cannibals.

BURNING STAR CORE / COMETS ON FIRE
Comets On Fire / Burning Star Core
(Yik Yak - 005) LP $12.00
Noise-damaged psychedelia from the trippy year of 2005. No roadhouse numbers, just pure expando-band blown-jam sorcery. Shirts were shed, inhibitions were forgotten, magic was made. Silkscreened sleeves. Edition of 1000.