Tough Man
(BloodLust! - B!066) 7-inch $7.50 (Out-of-stock)
Rhode Island artist Peter Lee (Force Of Nature) crafts a mixture of old-school industrial and power electronics, with intense vocals, tempered by dark, death-industrial-influenced, ambient soundscapes. Eleventh release in the BloodLust! Private 7" series. Plain white sleeve. 300 copies.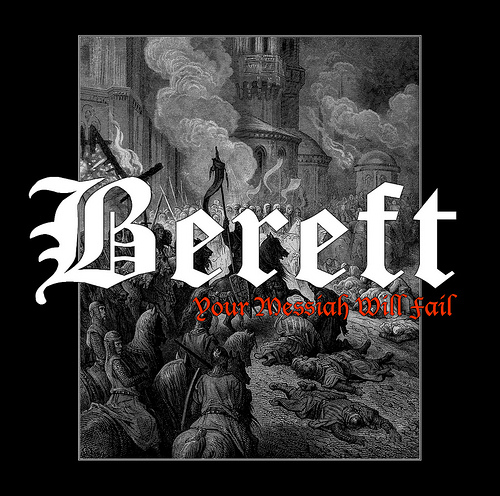 Your Messiah Will Fail
(BloodLust! - B!143) CDR $12.00 (Out-of-stock)
Your Messiah Will Fail takes a far more confrontational approach than Bereft's "Tough Man" b/w "Religious Leaders" single, which had a darker, more death-industrial feel to it. Comparable to the high-fidelity assault of the recent Twodeadsluts Onegoodfuck 7-inch and the classic P.E. approach of Slogun -- all the while maintaining its own personality and style -- Bereft is now a venomous two-piece group, as Andrew Grant (aka The Vomit Arsonist) has joined Peter Lee to accost listeners with harsh-yet-nuanced electronic sounds and potent vocals that feature prominently in the mix. The songs were written prior to the 2008 US presidential election, about which Lee vented, particularly Barack Obama's exceedingly "star" or "godlike" status. Lee makes a vehement cry against the current two-party political system, and the ever-changing system of support that allows too many politicians to avoid responsibility for their actions.